World Athletics Championships 2023: Laura Muir finished sixth in the women's 1500m final, while Faith Kipyegon won her third gold medal
Posted : 23 August 2023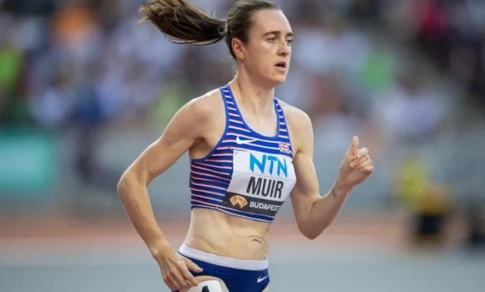 In the women's 1500m final at the World Championships in Budapest, Laura Muir secured a sixth-place finish as Faith Kipyegon of Kenya clinched her third gold medal in dominant fashion. Muir, the reigning world bronze medalist, crossed the line in three minutes and 58.58 seconds after a challenging year. Kipyegon, the world record holder from Kenya, maintained control throughout the race, triumphing with a time of 3:54.87. Ethiopia's Diribe Welteji secured second place, while Dutch athlete Sifan Hassan claimed the third position.
 
Among the British competitors, Katie Snowden and Melissa Courtney-Bryant placed eighth and twelfth respectively, while Kipyegon showcased her exceptional form this year by setting three world records across different distances. Despite leading comfortably in the earlier stages of the race, Kipyegon's pace intensified towards the end, leaving her competitors behind with ease.
 
Laura Muir, the British team captain, faced a tumultuous year marked by distractions, including an unexpected split with her long-term coach and inconsistencies in her performance. Despite these challenges, Muir showed resilience and had a return to form in July when she broke the 38-year British mile record. However, her hopes of repeating last year's podium finish were not realized this time.
 
Reflecting on the race, Muir expressed satisfaction with her positioning and effort, acknowledging the challenging final lap. She noted that even before the race, she felt like a winner due to the significant changes she underwent away from the track and the support she received. Muir also praised her fellow athletes, Snowden and Courtney-Bryant, for their performances and expressed pride in the three athletes representing Britain in the final.
 
Faith Kipyegon, the victor of the race, aimed to run her own race and acknowledged the strength of her competitors. She emphasized the high level of competition in the 1500m and highlighted the necessity of running a time below 3:55 to secure victory.
 
Sifan Hassan, who aimed for three golds at the championships, secured a medal after her earlier disappointment in the 10,000m event. The 5,000m race, which Kipyegon was also set to compete in, remained ahead, offering another chance for these athletes to showcase their talents on the track.