Tobi Amusan loses 100mH World Athletics championship final, finishes 6th
Posted : 25 August 2023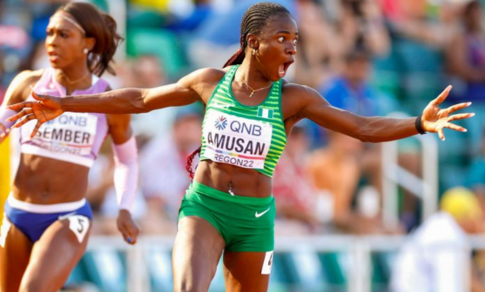 In a surprising turn of events, the highly acclaimed World Champion, Tobi Amusan, faced an unexpected setback as she strived to defend her coveted title on the grand stage of the ongoing World Athletics Championship held in Budapest. Hopes were high and expectations even higher, but fate had different plans for Amusan.

The spotlight, instead, shone on Jamaica's exceptional athlete, Danielle Williams, who blazed her way to victory with a stunning display of skill and determination. Williams soared to the gold medal position with an awe-inspiring season-best time of 12.43 seconds, leaving spectators in awe of her remarkable performance.

Adding another layer of excitement to the competition was Puerto Rico's Olympic champion, Jasmine Camacho-Quinn, who fiercely contested the title. Camacho-Quinn's unrelenting efforts secured her a worthy second place, a mere fraction of a second behind the leader, with a time of 12.44 seconds. The intensity of the race was palpable as Camacho-Quinn showcased her sheer resilience and unyielding spirit.

Meanwhile, representing the United States with undeniable prowess, Kendra Harrison clinched the third position. Her sprinting prowess led her to secure the bronze medal with a commendable time of 12.46 seconds, showcasing her remarkable consistency and tenacity on the global stage of athletic competition.

Regrettably for Tobi Amusan, the reigning World Champion, the story took a somewhat unexpected twist. Despite her previous successes and triumphs, she faced an unanticipated challenge that relegated her to a 6th place finish. With a time of 12.62 seconds, Amusan crossed the finish line in what was her third consecutive final appearance. It's clear that even for the most accomplished athletes, the journey to victory is not always a smooth one, as hurdles can arise when least expected.

The world watched with bated breath as these remarkable athletes pushed their limits and showcased their dedication on the world stage. The World Athletics Championship in Budapest undoubtedly provided a spectacle of athleticism, perseverance, and the unpredictable nature of sports, reminding us all that even the most accomplished champions can face unexpected turns in their pursuit of greatness.