The Comeback: Story of the World's Fastest Woman
Posted : 26 August 2023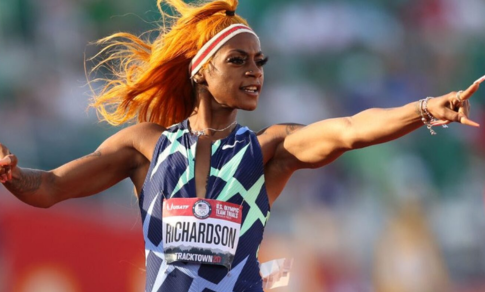 Carrie Richardson, once suspended from the Tokyo Olympics due to marijuana use, has defied all odds to make a triumphant comeback. She emerged as the winner of the 100-meter world championships, an achievement that seemed improbable. Her remarkable journey is so remarkable that it's destined to become a movie someday.
 
Several months ago, Shakari Richardson encountered an incident on a US flight, where she was asked to deboard after an exchange with a flight attendant. This event added to the polarizing perception surrounding her. For those who believe she has faced double standards as a rising star, this further reinforced their viewpoint. Nevertheless, Richardson's victory in the 100m final at the World Championships in Budapest is a redemption tale. Against a tough lineup and on Track 9, she emerged as an underdog to clinch victory.
 
In the post-Usain Bolt era, athletics has been awaiting a charismatic star to captivate audiences both with speed and personality. At only 23 years old, Richardson fits this role perfectly. Her immense talent, self-assuredness, and resilience due to a life filled with hardships make her magnetic. Richardson's life has been marked by trauma, including abandoning her mother and a suicide attempt during high school. Her openness about mental health struggles and overcoming career-threatening obstacles adds depth to her story.
 
In 2021, Richardson was a favorite for an Olympic medal and was on the brink of stardom. However, the postponement of the Olympics due to COVID-19 altered her path. The tragic loss of her biological mother led her to use marijuana, resulting in a suspension after failing a drug test. This incident sparked discussions on race, double standards, and rule adaptability. Richardson's suspension occurred despite evolving perceptions of marijuana's safety and legality.
 
Richardson's journey to her recent victory is marked by her resilience. She faced formidable competitors, Shericka Jackson and Shelly-Ann Fraser-Pryce, who have accumulated numerous world championship medals. However, Richardson's victory in Budapest silenced critics and amplified her presence.
 
During the qualifying rounds, Richardson wore an orange wig reminiscent of her appearance in 2021. For the final race, she dramatically discarded the wig before competing, symbolizing her growth and determination. Her victory resonated with a message of self-acceptance and strength.
 
In an industry awaiting an iconic figure, Richardson's story stands out. Her extraordinary triumph after facing adversity paints a cinematic picture that's likely to grace the big screen someday.