Simone Biles makes history with Biles II Vault at World Gymnastics Championships
Posted : 02 October 2023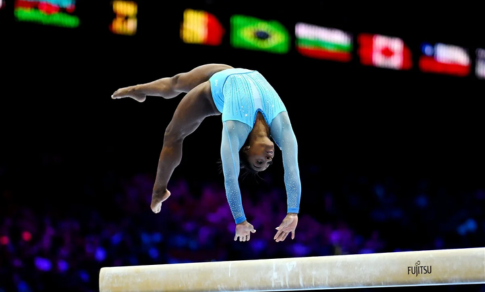 Simone Biles achieved a historic feat at the World Gymnastics Championships in Antwerp, becoming the first woman to successfully execute a Yurchenko double pike vault. This remarkable move, now named the Biles II, propelled the 26-year-old American to the top of the all-around qualifying standings.

Biles returned to international competition after a two-year hiatus, during which she focused on her mental health. Her comeback in August included a victory at the US Classic, showcasing her remarkable resilience.

Scoring an impressive 15.266 for her Yurchenko double pike, considered the most challenging jump in the women's scoring code, Biles accumulated a total score of 58.865 in the all-around competition. This resulted in the vault being officially named Biles II, adding to her collection of skills named after her.

With 25 world medals, the most of any gymnast in history, and seven Olympic medals, Biles is now the oldest American woman to compete at the World Championships. She boasts five skills named after her, spanning floor exercise, vault, and balance beam routines.

Biles' stellar performance also contributed to the United States topping the women's qualifying standings. Her return to international competition followed her withdrawal from five out of six finals at the delayed Tokyo Olympic Games in 2021 due to experiencing the 'twisties,' a mental block affecting gymnasts' spatial awareness in mid-air.

In other gymnastics news, Great Britain's men secured third place in the qualifying round with a combined score of 254.193 points, ensuring their spot in the upcoming final. The women's team, featuring Jessica Gadirova, Ondine Achampong, Alice Kinsella, Georgia-Mae Fenton, and Ruby Evans, currently holds the second position with 166.130 points, with qualifying set to conclude on Monday. The women's team final is scheduled for Wednesday.