Simone Biles breaks record at US Championships, wins eighth all-around title
Posted : 28 August 2023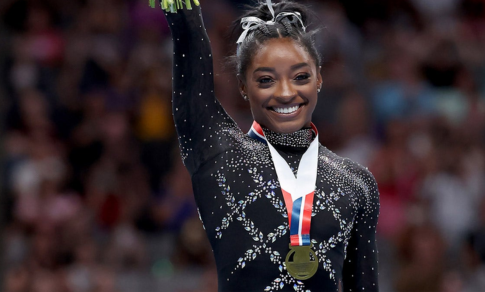 Simone Biles achieved a remarkable feat by securing her eighth all-around title at the US Gymnastics Championships, breaking a 90-year-old record. This victory comes shortly after her return to competition, ending a two-year hiatus during which she focused on her mental well-being. The 26-year-old garnered a floor routine score of 15.400, amassing a total all-around score of 118.450. Shilese Jones followed in second place, trailing Biles by 3.9 points.
 
Biles now surpasses Alfred Jochim, who secured his seventh US title back in 1933. Throughout the two days of competition in San Jose, she was the sole participant to achieve two scores of 15 or higher. Her dominance was established with a vault score of 15.700 on the first day.
 
Having initially become the US all-around champion in 2013 and matching Jochim's record in 2021, Biles faced challenges during the Tokyo Olympics in the same year. She withdrew from five of her six finals due to experiencing 'the twisties,' a mental block that disrupts a gymnast's sense of spatial awareness while in the air. Despite this, Biles managed to secure a balance beam bronze and a team silver at the Olympics.
 
As for her future plans, Biles has not yet indicated whether she will pursue participation in the Paris Olympics next year. However, she is expected to take part in the World Championships scheduled in Antwerp from September 30 to October 8. This event provides an opportunity for her to increase her impressive collection of 25 world medals, including 19 golds.