Noah Lyles wins gold in 100-meter dash at Budapest World Championships
Posted : 21 August 2023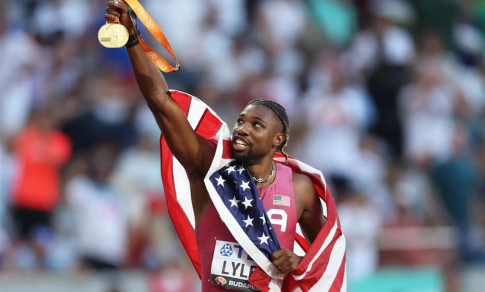 In a remarkable feat, 26-year-old American sprinter Noah Lyles secured his first-ever gold medal in the 100-meter dash at the world championships held in Budapest. Crossing the finish line in a swift 9.83 seconds, Lyles proved himself as the fastest man in the world. He outpaced Latzil Tebogo by a mere 5 hundredths of a second, who finished in 9.88 seconds, while Jarnell Hughes of Britain claimed the third spot with an identical time of 9.88 seconds, securing the bronze medal. Jamaican Oblik Sabeel closely followed behind.
 
Lyles, seen as a beacon of hope for the upcoming Olympic Games in Paris next summer, has already established himself as a record-holder in the 200 meters with a remarkable time of 19.31 seconds. Although he clinched the bronze medal in the 200 meters at the Tokyo Olympics, Lyles met the high expectations placed upon him in this championship.
 
Throughout the tournament, Lyles showcased his prowess, registering the fastest time in the semifinals at 9.87 seconds, paving his way to the final. This achievement marked his first gold in the indoor championships for the 100 meters and his fourth overall. Prior successes were in the 200 meters category, securing gold in both the 2019 championships in Doha and the subsequent edition in Oregon. Furthermore, he clinched gold as part of a relay team in Doha and added a silver to his collection in Oregon.
 
Drama unfolded in the semifinals as reigning Doha world champion Fred Curley faced disappointment, finishing ninth with a time of 10.02 seconds and being eliminated. Olympic champion Marshal Jacobs also exited the competition in the semifinals, finishing with a score of 10.05 seconds and claiming the 12th position overall.
 
In the men's 10,000 meters race, Uganda's Joshua Cheptegai, the world record holder and an established gold medalist, extended his winning streak by securing his third consecutive world championship title. He clocked an impressive 27:51.42, followed by Kenya's Daniel Avenue who trailed by 1.25 seconds, and Salomon Barga from Ethiopia who claimed the bronze medal.
 
In the heptathlon, Katrina Johnson-Thompson, the reigning world champion from Doha, showcased her prowess by amassing 6,740 points and securing the gold medal. Anna Hall took the second position and settled for silver, while Anouk Peter from the Netherlands clinched the bronze medal.
 
In the women's 1,500 meters, Kenyan Faith Kipyegon, holder of the world record, triumphed in the semifinals with a time of 3:55.14, securing her spot in the final. Dutch athlete Saipan Hassan finished third in the semifinals and earned her spot in the final competition as well.