Noah Lyles, Usain Bolt's heir, embarks on athletics journey to break records
Posted : 17 August 2023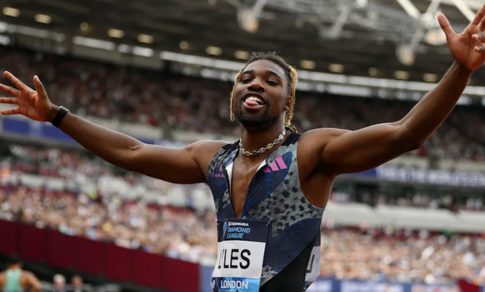 Noah Lyles, once hailed as the heir to Usain Bolt's throne, has taken a unique journey in the world of athletics. From his entry into the scene as a 19-year-old with a complex medical history to his present status as a confident athlete who boldly proclaims his intention to break Bolt's records, Lyles has certainly made his mark. Now at 26 years old, he stands poised to become a dominant force in the sport as he sets his sights on Budapest's grand stage.
 
During the 2016 Rio Olympics, the young American sprinter secured fourth place in the 200-meter dash with a time of 20.09 seconds, setting a high school record. Notably, it was in the same race where Bolt clinched the gold medal with a comparatively modest time of 19.78 seconds. This encounter sparked early anticipation of Lyles' ascent. However, their paths diverged after that sole encounter, with Bolt's retirement marking the end of his illustrious Olympic career.
 
Fast-forward seven years, and Lyles is now a seasoned athlete, preparing to compete in the World Athletics Championships in Budapest. In a departure from the norm, Lyles openly shared his ambitious goals with his Instagram followers, setting high standards for himself. He aims for a time of 9.65 seconds in the 100m and 19.10 seconds in the 200m, the latter surpassing Bolt's iconic world record. This audacious declaration highlighted Lyles' bold and self-assured personality, traits that have often drawn comparisons to Bolt, despite Lyles' aversion to such comparisons.
 
Lyles' journey to success has been marked by challenges, including acute asthma, mental health struggles, and anxiety. These obstacles have shaped his determination to break free from inhibitions and embrace genuine joy in his achievements. Raised in Jacksonville, Florida, Lyles transitioned from basketball and trampoline jumping to athletics, following in his father's footsteps. Notably, he secured the 200m world championship titles in both 2019 and 2022, showcasing his prowess in the sport.
 
Despite his accomplishments, Lyles experienced disappointment at the 2020 Tokyo Olympics, where he fell short of expectations. However, he views the upcoming Budapest championships as an opportunity for redemption. Beyond his performance, Lyles is also known for his colorful and unique style, often sporting vibrant socks adorned with comic book characters. His attention-grabbing persona and confident demeanor have made him a prominent figure in the track and field world.
 
Amidst Lyles' bravado, veteran athletics commentator Dr. Gilad Weingarten remains cautious about his record-breaking ambitions. While Lyles holds an impressive personal best of 19.31 seconds, Weingarten suggests that breaking the 200m record might take several years. He also notes the competition Lyles faces from other rising talents. Nevertheless, Lyles' audacious statements continue to captivate the imagination of both fans and critics alike.
 
In Budapest, Lyles aims to not only make an impact on the track but also through his distinctive style. His promise to don an aerodynamic hairstyle and unique nail design adds an element of anticipation to his performance. As he vies for success in the 100m and 200m races, Lyles' colorful socks may very well embody the spirit of either Superman or the Joker, symbolizing his bold and enigmatic persona.
 
The World Championships in Budapest are poised to leave a lasting memory, with Noah Lyles as one of its standout personalities. Whether he achieves his record-breaking aspirations or not, his presence and confidence are sure to leave an indelible mark on the event's legacy. As the stage is set, Lyles prepares to showcase his talent and flair on the world stage, capturing the attention and imagination of athletics enthusiasts worldwide.