Karsten Warholm wins World Athletics Championships 400m hurdles final
Posted : 24 August 2023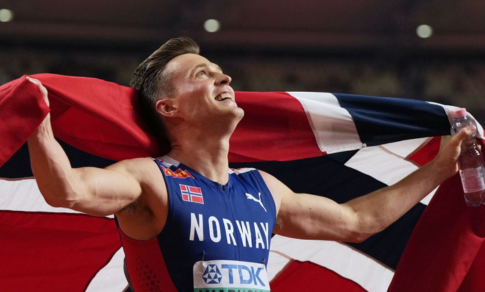 The highly anticipated 400m hurdles final at the World Athletics Championships in Budapest promised an intense three-way battle, yet it was ultimately dominated by Norway's Karsten Warholm. The Olympic champion and world record holder demonstrated his supremacy by creating a significant lead and securing an effortless victory in a remarkable time of 46.89 seconds.
 
Coming back from his injury setback in the previous championships, Warholm reaffirmed his status as one of the world's finest athletes. American Rai Benjamin, the former runner-up on the global stage, took third place. Defending champion Alison dos Santos surprisingly struggled and finished in fifth place. Kieron McMaster from the British Virgin Islands delivered an unexpected performance, claiming the second spot with a time of 47.34 seconds and achieving a historic medal for his country.
 
A highly competitive final unfolded in the women's pole vault, with Australian Nina Kennedy and Olympic champion Katy Moon both reaching a height of 4.90 meters. The competition took an unusual turn as both athletes were disqualified and unable to continue, leading to a shared gold medal between them. Finland's Wilma Murtu secured the bronze in the event.
 
In the realm of the men's 1,500 meters, Olympic champion Jakob Ingerbrigastan of Norway was widely expected to clinch the world title. However, it was Britain's Josh Kerr who delivered a surprising performance, clocking in at 3:29:38 and finishing 27 hundredths of a second ahead of the Norwegian, securing an unexpected victory. This unexpected triumph upgraded Kerr from an Olympic bronze medalist to a world champion. Reflecting on the race, Ingerbrigastan acknowledged Kerr's accomplishment and expressed his sense of disappointment.
 
Marilady Paulino from the Dominican Republic, who had been the runner-up in the 400 meters last year, secured the gold this time with a time of 48.76 seconds. Natalia Kachmark finished in second place with a time of 49.57 seconds, while Sada Williams secured the third spot with a time of 49.6 seconds.