IWF World Championships Day 12: Record-breaking performance by Liang Xiaomei highlights
Posted : 16 September 2023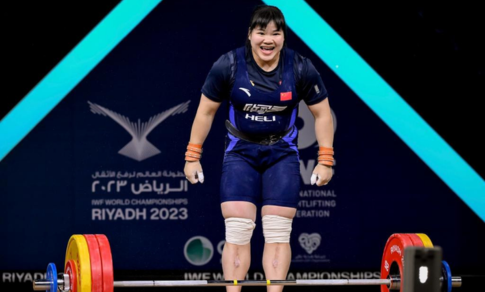 Liang Xiaomei achieved a historic feat at the IWF World Championships by becoming the first 81kg clean and jerk world record holder, breaking a record that had stood since the introduction of new weight categories in 2018.

Liang made her final attempt at 159kg, securing her place in the record books. Her teammate Wang Zhouyu, an Olympic champion, opted not to take her final attempt, leaving Liang in the spotlight. Both Liang and Wang have been pushing each other in training, which has contributed to their success.
 
In the men's 102kg category, many athletes struggled during qualifying, resulting in a lack of record holders in this Olympic category. Liang displayed a stellar performance by making all six lifts, winning with a total of 281kg.

Wang also had a strong showing, securing a total of 277kg. Eileen Cikamatana from Oceania clinched third place with a total of 256kg, making her the first medallist from the region in the Championships.
 
Liang's performance is remarkable as she sets her sights on the Olympic rankings, seeking China's seventh victory at the Championships. Her record-breaking clean and jerk lifts put her in a strong position, and her consistency throughout the competition has been impressive. Wang also had a commendable performance, highlighting the competitiveness within the Chinese team.
 
In the women's 87kg category, Norway's Solfrid Koanda, a strong favorite, faced a surprising setback as she failed to make a snatch of 115kg. However, she made an impressive comeback in the clean and jerk, winning with lifts of 140kg, 150kg, and 156kg. The overall winner was Lo Ying-yuan from Chinese Taipei, with a total of 245kg, followed by Yeinny Geles from Colombia.
 
Despite her challenges, Koanda remained optimistic, recognizing that such setbacks can happen in sports and vowing to learn from the experience. The competition also saw notable performances from other athletes, including Monique Araujo, a member of the Weightlifting Refugee Team, who made a strong comeback after a hiatus of more than six years.

Araujo's journey back to weightlifting was supported by the International Weightlifting Federation (IWF) and the IOC's Refugee Team project, highlighting the positive impact of sports in overcoming adversity.
 
The Championships showcased the resilience and dedication of athletes like Liang Xiaomei, Wang Zhouyu, Eileen Cikamatana, and Solfrid Koanda, while also emphasizing the importance of support and opportunities for athletes facing challenges in their careers, as exemplified by Monique Araujo's inspiring comeback story.