Israeli gymnastics team wins historic gold medal at World Championships
Posted : 26 August 2023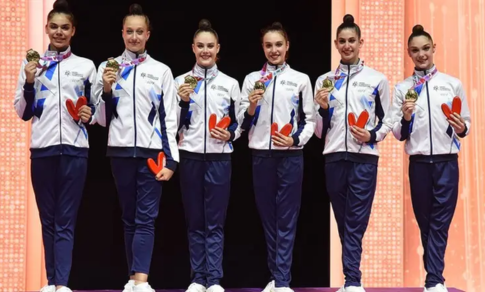 A remarkable achievement unfolded in the realm of blue and white gymnastics as the Israeli artistic gymnastics team secured a historic gold medal at the World Championships, marking their inaugural victory in this prestigious competition. With an impressive total score of 70.800 points, Israel outperformed China and Spain in the event held in Valencia.
 
During the combined exercise qualifiers, the Israeli gymnasts accumulated 32.650 points, setting the stage for an astonishing performance in the hoops exercise. This particular routine garnered a remarkable score of 38.150 points, ultimately clinching the top spot on the podium. Following this triumph, the newly crowned world champions expressed their elation, stating, "We are so happy that we were able to secure this medal and earn the privilege to proudly sing our anthem on the podium. It's the ultimate feeling for an athlete. The excitement was truly unparalleled. We are now world champions!"
 
China trailed Israel by a mere 0.750 points, while Spain, the host nation, secured the third position with a significantly lower score of 73.000. Notably, Israel clinched fourth place in the team competition, which combines the collective achievements of both team and individual gymnasts.
 
The team roster includes talented individuals such as Ofir Shaham (Ironi Netanya), Diana Svertsov (Maccabi Tel Aviv), Hadar Friedman (Maccabi Petah Tikva), Liza Benchuk (Hapoel Rishon LeZion), Romi Pritzky (Maccabi Tel Aviv), and Shani Bekanov (Maccabi Haifa). The coaching staff comprises Ayelet Zussman, Alla Samopelov, and Natasha Stipanova, with assistant coaches Linoy Ashram and Ida Meyrin.
 
While the Israeli national team has established itself as a formidable force on the global stage, their journey to securing the world title has been a long and arduous one. In the previous year, they achieved the status of world championship runners-up, and this year they followed suit as runners-up in the European championship. It is worth noting that two of the world's finest teams, Russia and Belarus, did not partake in the World Championships.