Farah finishes fourth in London Big Half, losing to Rowe
Posted : 03 September 2023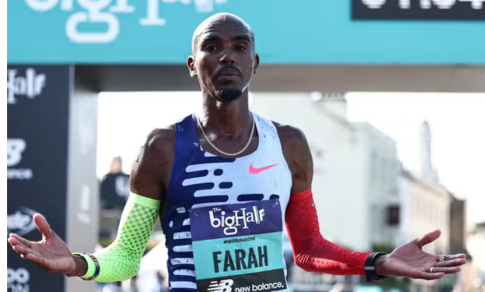 Mo Farah, the four-time Olympic champion, concluded his final race in his hometown of London with a fourth-place finish in The Big Half. In the elite men's race on Sunday, the 40-year-old remained competitive with the lead pack for the first half of the race but eventually fell behind after approximately 30 minutes.

The victory went to Jack Rowe, who set a personal best time of one hour one minute and eight seconds, while Farah clocked 1:02:43.
 
In the elite women's race, Calli Thackery claimed first place with a time of 1:09:15. Rose Harvey followed in second, trailing Thackery by 47 seconds, with a time of 1:10:02, and Abbie Donnelly secured third place in 1:10:31.
 
Mahamed Mahamed led for a significant portion of the men's race but ultimately finished eight seconds behind Rowe in the closing stages, while Andrew Butchart (1:02:15) took third place.
 
Mo Farah, who boasts six world titles in addition to his four Olympic gold medals, announced his retirement plans after participating in the Great North Run on September 10. Reflecting on his performance in The Big Half, Farah said, "It was quite emotional because I haven't been feeling well this week as I've got a bit of a cold... When you achieve everything, it must come to an end at some point. I'm getting on a bit."
 
In the wheelchair races, David Weir emerged as the winner in the men's category after a sprint finish with Danny Sidbury, with Johnboy Smith securing third place. The women's wheelchair race witnessed a closely contested finish, with Samantha Kinghorn taking the victory over Eden Rainbow-Cooper, and Mel Woods finishing third.