Evenepoel triumphs amidst crash: Wins stage three of Vuelta a Espana
Posted : 29 August 2023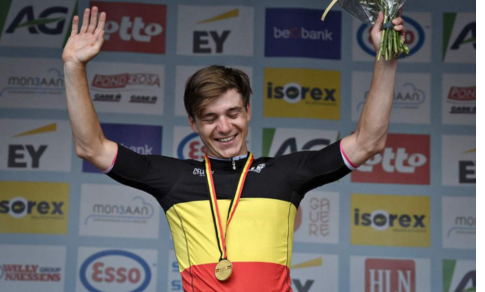 Celebrations mingled with adversity for Remco Evenepoel as he clinched victory in stage three of the Vuelta a Espana, despite encountering a crash that left him with a bleeding cut above his right eye.
 
The defending champion showcased his prowess by outpacing Jonas Vingegaard in an exhilarating sprint finish. However, jubilation turned to concern as Evenepoel collided with a spectator shortly after triumphantly crossing the finish line.
 
This incident came on the heels of challenging conditions posed by torrential rain that had previously impacted stages one and two of the race.
 
Safety became a focal point for Belgium's Evenepoel, aged 23, who remarked, "Some things [are about] safety." Reflecting on the crash, he noted, "It [the crash] was only 50 metres after the finish line, and it's the third day in a row [there have been problems]."
 
The opening stage of the Grand Tour was marked by crashes amidst slippery conditions due to thunderstorms. In a similar vein, stage two saw partial suspension, with general classification times recorded nine kilometers before the finish.
 
Despite these challenges, Evenepoel, representing Soudal-QuickStep, emerged victorious in stage three, earning the red jersey for his outstanding performance. The stage journeyed from Barcelona into the Pyrenees mountains and culminated with a summit finale in Andorra.
 
Evenepoel displayed his dominance, crossing the finish line with a one-second lead over back-to-back Tour de France champion Jonas Vingegaard of Denmark. Juan Ayuso secured third place, while three-time Vuelta winner and reigning Giro d'Italia champion Primoz Roglic claimed the fourth spot.
 
Recounting his experience, Evenepoel expressed, "I felt super good on the final climb with a long but very strong sprint so I'm super happy with this stage win. I felt I had a big punch still in my legs." He relished the achievement of the red jersey, reflecting, "I'm gonna enjoy the red jersey. It's a beautiful victory here in Andorra, at high altitude. It shows my preparation was good and that I'm ready for the next three weeks."
 
Currently, Evenepoel holds a five-second lead over Spain's Enric Mas in the overall standings, while France's Lenny Martinez follows in third place, trailing by 11 seconds.