Ethiopia's Tigist Asafa shatters women's marathon world record at Berlin Marathon
Posted : 24 September 2023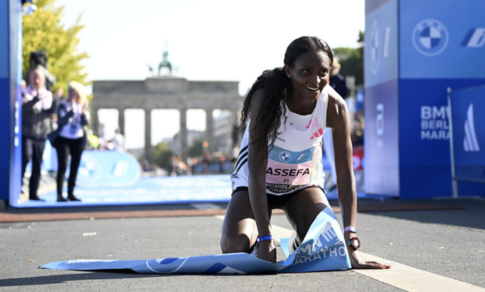 Ethiopian athlete Tigist Asafa achieved a remarkable feat at the Berlin Marathon by setting a new world record. The 29-year-old completed the race in a stunning time of 2:11:53, surpassing the previous record held by Kenyan runner Brigid Kosgei, who clocked 2:14:04 at the 2019 Chicago Marathon.

What makes Asafa's achievement even more impressive is her background as an 800-meter runner. She originally represented Ethiopia in the 800 meters at the 2016 Rio Olympics, where she finished 20th.

However, she made the transition to marathon running and made waves with a victory at the Berlin Marathon last year, posting the third-best time in history at 2:15:37. Her recent world record-breaking performance in Berlin marks just her third marathon in her career.

In the men's race, Eliud Kipchoge, the current world record holder, secured his fifth career victory at the Berlin Marathon.

While Kipchoge had hoped to break the world record again, he completed the race in 2:02:42, more than a minute and a half slower than his previous record set at the same event the previous year.

Nevertheless, Kipchoge continues to solidify his status as a dominant force in long-distance running as he looks ahead to the Paris Olympics, where he aims to secure a third consecutive Olympic gold medal.