Ethiopia win women's marathon at Budapest World Championships, with Shankule leading charge
Posted : 26 August 2023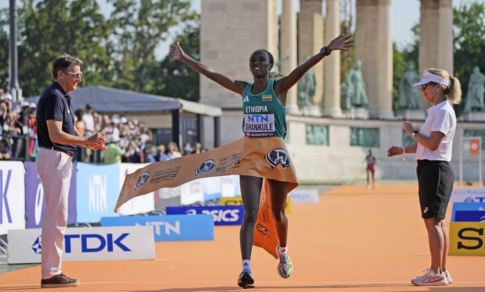 Ethiopia secured a 1-2 victory in the women's marathon at the world championships in Budapest, with Amane Beriso Shankule leading the charge. Shankule completed the race in 2 hours, 24 minutes, and 23 seconds, narrowly outpacing her teammate and defending champion Gotytom Gebreslase by 11 seconds. Morocco's Fatima Ezzahra Gardadi clinched the bronze medal, marking her country's first-ever medal in the event.
 
Shankule praised the teamwork among the Ethiopian athletes, noting their strategy to create a challenging pace for other competitors. Despite the sweltering conditions, with temperatures ranging from 73 to 84 degrees Fahrenheit, Shankule and her teammates persisted. She expressed a desire for an earlier start to the race to potentially achieve a faster time.
 
Shankule steadily increased her lead over her fellow Ethiopians as the marathon progressed, securing her victory as she crossed the finish line in Heroes' Square. Gebreslase, who held a world-championship record from a previous event, acknowledged the challenging conditions of the Budapest race compared to the cooler Oregon setting where her record was achieved.
 
The heat and rapid pace took a toll on many runners, including Kenya's Rosemary Wanjiru, who found the weather conditions too demanding. The top American finisher was Lindsay Flanagan in ninth place.
 
Looking ahead in the championships, Kenyan athlete Faith Kipyegon aimed to add a 5,000-meter title to her earlier 1,500-meter victory, while Swedish pole vaulter Mondo Duplantis aimed to defend his title. In the night session, Noah Lyles, the winner of the men's 200 meters, could potentially participate in the United States' 4x100 relay team.