​Dubem Amene: The rising star of Nigerian athletics
Posted : 06 September 2023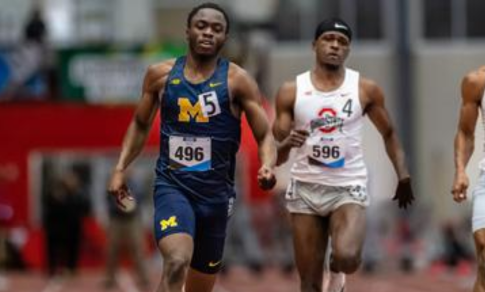 In the world of athletics, Dubem Amene is a name that continues to shine brightly. Born on November 10, 2002, this young athlete has already made a significant impact in the sprinting ranks of Team Nigeria. With a fearless spirit and unwavering determination, Dubem has demonstrated time and again that he can rise to the occasion, even when the odds are stacked against him.

Dubem Amene's journey to becoming a world-class sprinter, particularly in relay races, has been nothing short of impressive. Despite his young age, he boasts a track record that rivals many seasoned athletes who have been in the sport for a decade or more.

One of the defining moments in Dubem's career came at the 2020 Summer Olympics, where he represented Nigeria in the mixed 4x400 meters relay event. His performance earned him a spot in the semi-finals of the race, showcasing his immense potential on the international stage.

In 2022, Dubem Amene, alongside teammates Samson Nathaniel and Imaobong Nse Uko, secured a sixth-place finish in the men's mixed relay race at the World Athletics Championships in Oregon, United States. This achievement further solidified his reputation as a rising star in the world of athletics.

Dubem's impressive run continued in 2023 when he clinched victory in the 400 meters race at the Big-10 Championship in Geneva, Ohio. He followed this up with another win in the 400 meters race event at the same championship, setting a new personal best time of 46.41 seconds.

What sets Dubem Amene apart is not just his remarkable speed but also his ability to break records. He became the first Nigerian quarter-miler to complete a 400-meter race in under 46 seconds, achieving a personal best time of 45.51 seconds to qualify for the NCAA championships. This feat marked the fastest time recorded by a Nigerian quarter-miler in five years.

Dubem's journey to success began at the World U20 Championships in Nairobi in 2021, where he made a significant impact in the senior category. His rapid rise to stardom caught the attention of the Nigerian senior team, earning him a place among the country's top quarter-milers.

Throughout his career, Dubem Amene has consistently displayed his talent and courage. His exceptional third-leg performance during the 2022 World Championships played a pivotal role in securing Nigeria's place in the final of the mixed 4x400m event, making them the first African team to achieve this feat.

While Dubem has faced challenges, including an injury at the Commonwealth Games in his first appearance, his determination remains unwavering. At just 21 years old, he is undoubtedly one of Nigeria's brightest prospects in quarter-mile sprinting, and his journey is only beginning.

With a remarkable track record and a passion for excellence, Dubem Amene is poised to make a significant impact on the world stage. As he continues to hone his skills and strive for greatness, the world can expect to see more extraordinary performances from this rising star.