Dramatic Day 3 at IWF World Championships: Li Fabin, Massidda, and Morris shine amid red lights
Posted : 07 September 2023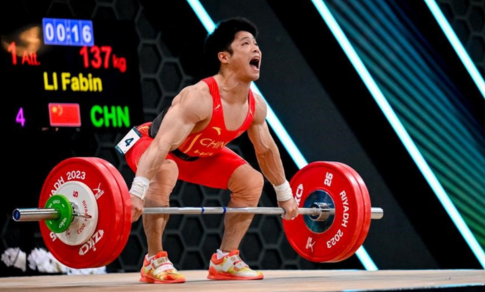 On Day 3 of the IWF World Championships in Riyadh, several remarkable achievements unfolded. Olympic champion Li Fabin secured his third world title despite facing difficulties during his lifts. He posted a total of 308kg, narrowly defeating Italy's Sergio Massidda, who achieved a career high with a total of 302kg. Li's teammate, Ding Hongjie, secured third place in the B Group with a total of 301kg.

In a surprising turn of events, American teenager Hampton Morris, despite failing to make a total due to three snatch failures, managed to beat the Olympic champion in clean and jerk with a junior world record of 168kg. This marked the first time in decades that a male lifter from the United States won a World Championships gold medal.

The men's 61kg category witnessed intense competition, with Massidda becoming the first European to reach the 300kg mark in this weight category. He expressed his determination to continue improving in future competitions.

Antonio Urso, President of FIPE, praised Massidda's achievements, emphasizing the complexity of the men's 61kg category in the world championship. China now holds the top three spots in the Olympic rankings at 61kg.

The women's 55kg category also had its share of drama, with Chen Guan-Ling from Chinese Taipei winning gold in all three lifts. Rohelys Galvis from Colombia secured all three silvers, while Irene Borrego from Mexico and Rosalba Morales from Colombia claimed bronze medals in different categories.

Jenly Wini from the Solomon Islands, at 40 years old, delivered an impressive performance, highlighting her potential in future competitions.

Overall, Day 3 of the World Championships featured intense competition, unexpected victories, and standout performances from athletes across various weight categories.