Diamond League Finals: Swedish Armand Duplantis set a world record in the 6.23m pole vault
Posted : 18 September 2023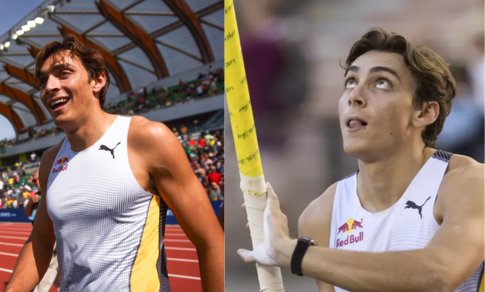 World records fell at the Diamond League finals in Eugene, Oregon, with exceptional performances across various events.

Armand Duplantis, a Swedish pole vaulter, achieved an astonishing feat by breaking his own world record in pole vault, clearing a height of 6.23m.

This marked his third consecutive title and the seventh time he has broken the world record, showcasing his remarkable talent and dominance in the event.

Gudaf Tsegay, an Ethiopian athlete, delivered an outstanding performance in the women's 5000m, shattering the previous world record by nearly five seconds.

Her official time of 14:00.21 was just 0.21 seconds away from breaking the sub-14-minute barrier.

This achievement underscored her determination and potential, especially after a disappointing World Championships.

In the 800m event, Athing Mu posted a time of 1:54.97, securing the victory. However, as a national wildcard, she was not eligible for the title. The title went to Great Britain's Keely Hodgkinson, who finished second with a time of 1:55.19, breaking her own British record by 0.58 seconds.

Andre De Grasse claimed his first title in the men's 200m with a season-best time of 19.76. He crossed the finish line ahead of American duo Kenneth Bednarek and Erriyon Knighton, showcasing his speed and form.

In the final event of the day, Jamaica's Shericka Jackson aimed to break Florence Griffith-Joyner's 35-year-old 200m record, which stood at 21.34 seconds. While she fell short by 0.23 seconds, Jackson still secured the victory, earning her third Diamond League gold medal of the year.

Overall, the Diamond League finals showcased remarkable athletic achievements and set the stage for continued excellence in track and field.