Cuba's Luis Orta secures first world title and Olympic spot in 67kg at Wrestling World Championships
Posted : 25 September 2023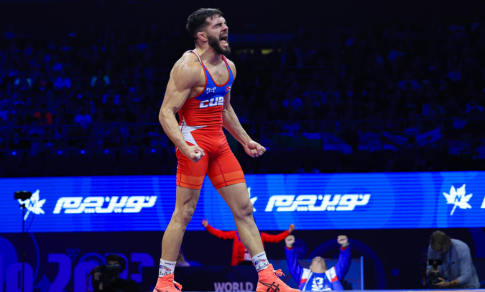 Luis Orta Wins Gold and Olympic Spot in 67kg

Luis Orta of Cuba, the 60kg Greco-Roman Olympic champion from Tokyo 2020, made a successful move up to 67kg and secured his first world title. He rallied in the second period to defeat Hasrat Jafarov of Azerbaijan 4-3 in the 67kg final at the World Championships in Belgrade. This victory also earned Cuba a spot at the 2024 Paris Olympics. Orta credited his success to hard training, good coaching, and preparation.

Team Azerbaijan Wins First-Ever Team Title

Azerbaijan had a strong showing at the World Championships, with three champions and two silver medalists, securing their first-ever team title with 120 points. Iran finished second with 102 points, and Turkey was third with 93 points.

Transition to 67kg Pays Off for Luis Orta
After winning the gold in the 60kg category at the Tokyo Olympics in 2020, Luis Orta transitioned to 67kg by competing at 63kg in 2022. However, he only managed a seventh-place finish at last year's World Championships. This year, he showed his ability to handle the extra weight at 67kg, winning all three of his matches en route to the final by technical fall. In the final, he overcame a 3-1 deficit in the second period to secure the gold.

Ali Cengiz Survives a Close Match to Win Gold

Ali Cengiz of Turkey won the gold at 87kg, surviving a close match against David Losonczi of Hungary. Cengiz was on his back for nearly a minute but managed to hold on for an 8-7 victory. He used a front headlock throw to take the lead in the first period and held on despite Losonczi's late challenge.

Leri Abuladze Wins Gold at 63kg

Leri Abuladze of Georgia won the gold medal at 63kg, defeating Murad Mammadov of Azerbaijan 2-2 on last-point criteria. Abuladze scored a reversal from par terre in the first period but fell behind 2-1 after Mammadov gained a stepout. Abuladze then received the second passivity point, putting him ahead on criteria. He managed to hold out for the win.

Mohammadreza Geraei and Zhan Beleniuk Win Bronze

Two other Olympic champions, Mohammadreza Geraei of Iran and Zhan Beleniuk of Ukraine, both won bronze medals in their respective weight categories. Geraei defeated Slavik Galstyan of Armenia by disqualification for two leg violations in a wild match. Beleniuk won his bronze medal at 87kg, using his experience to secure a victory.

Host Serbia Earns Bronze Medals

Host Serbia had a successful night, earning bronze medals in two weight categories. Mate Nemes won bronze at 67kg, while Georgij Tibilov won bronze at 63kg. The home crowd celebrated their achievements.

Armenia and Kazakhstan Secure Olympic Spots

Armenia's Slavik Galstyan and Kazakhstan's Nursultan Tursynov earned Olympic spots in the fifth-place playoffs. Galstyan secured the spot for Armenia with an 8-0 technical fall over Amantur Ismailov of Kyrgyzstan. Tursynov gained the spot for Kazakhstan with an 8-0 victory over Islam Abbasov of Azerbaijan.

Successful Qualification for the Paris Olympics

The World Championships also served as the initial qualifier for the Paris 2024 Olympics, with five berths available in each of the six Olympic divisions. Iran secured four berths in Greco, while Cuba, Armenia, and Kyrgyzstan, Japan, Azerbaijan, and Turkey secured two berths each. Asian countries took all five spots at 60kg.