China win the women's 49kg category at the IWF World Championships
Posted : 06 September 2023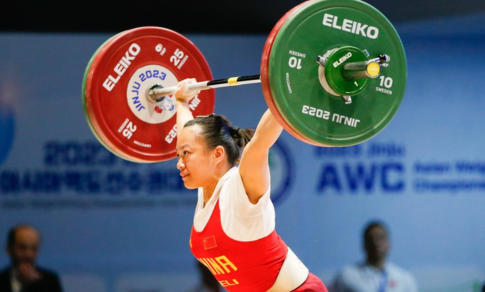 On the second day of the IWF World Championships in Riyadh, China kicked off their campaign with a spectacular 1-2 finish, accompanied by the shattering of two world records. Jiang Huihua showcased her remarkable prowess by executing a perfect six-for-six performance, further solidifying her Paris 2024 qualification with an impressive 16 good lifts out of 18 attempts.

In the women's 49kg category, Jiang secured the gold medal, leaving her teammate Hou Zhihui, the Olympic champion, in the second position. Notably, Jiang has now bested Hou three times since her triumph in Tokyo.
 
Jiang's awe-inspiring performance reached its pinnacle when she concluded her lifts with a triumphant 120kg clean and jerk, simultaneously setting new world records in both the clean and jerk and total categories.

Her total of 95-120-215 placed her 4kg ahead of Hou in the long list rankings and an astonishing 15kg clear of her nearest competitors in the simplified list. In a daring attempt, Hou aimed to surpass her own world record in total but faltered at 119kg.
 
The United States performance director, Mike Gattone, humorously noted, "The good news for us is that China can only take one athlete to Paris." His optimism stemmed from Jourdan Delacruz's outstanding performance, securing third place and joining three others with a total of 200kg in the long list. The trio includes Asian athletes Mirabai Chanu from India and the Thai pair Surodchana Khambao and Thanyathon Sukcharoen.

Delacruz, the sole non-Asian contender to reach the 200kg milestone in the 49kg category, overcame initial setbacks to secure bronze in both the clean and jerk and total events. This achievement marked her first-ever world championships medals, a testament to her dedication to weightlifting and continuous improvement.
 
The Olympic rankings also witnessed significant shifts, led by 19-year-old Rosegie Ramos from the Philippines. Ramos made a notable climb from 49th to the top 10 on the simplified rankings, achieving a commendable 86-102-188 in her lifts. Unfortunately, her teammate Lovely Inan failed to make a total, highlighting the competitive nature of the sport.
 
Mihaela Cambei from Romania demonstrated promise with a snatch bronze after lifting 90kg. However, her aspirations to reach the coveted 200kg milestone were thwarted by two failed attempts in clean and jerk. Cambei remains determined and is set to compete in the IWF Grand Prix in Qatar, offering her another opportunity to become the first European lifter to breach the 200kg mark.
 
Khambao secured fourth place on total with a performance of 87-109-196, while Hayley Reichardt from the United States finished in sixth place with two successful lifts, accumulating a total of 189kg. Remarkably, the Chinese athletes dominated the competition, with no red lights until Hou's unsuccessful world record attempt.
 
In the men's 55kg category, Lai Gia Thanh from Vietnam clinched gold on his fourth attempt after facing disappointment at the World Championships in 2018, 2019, and 2022. The 2018 junior world champion achieved a career-best total of 123-146-269, marking his seventh victory in the last ten competitions. His teammate, Ngo Son Dinh, secured silver with lifts of 117-144-261, while Natthawat Chomchuen from Thailand claimed third place with a total of 116-143-259.
 
Saudi Arabia came agonizingly close to securing a medal as Mansour Al Saleem matched the numbers of other lifters in snatch, clean and jerk, and total but finished fourth in all three categories. The snatch bronze was awarded to Thada Somboon Uan from Thailand, while Chomchuen took home the other two bronze medals. Despite the disappointment, Al Saleem received tremendous support from the home crowd, displaying immense courage and determination in his pursuit of a medal.
 
These performances at the IWF World Championships in Riyadh showcased the extraordinary talent and dedication of weightlifters from around the world, setting the stage for exciting competitions in the future.