Carrie Richardson wins fastest woman title at World Championships
Posted : 22 August 2023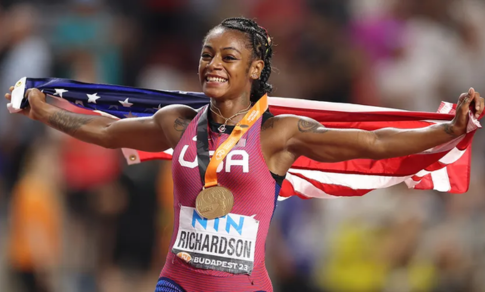 In a surprising turn of events at the World Championships in Budapest, 23-year-old American sprinter Carrie Richardson claimed the title of the fastest woman in the world. She secured the gold medal in the 100-meter dash by clocking an astonishing 10.65 seconds, setting a new championship record. Following closely were the Jamaican pair: Shericka Jackson, who achieved a year-best time of 10.72 seconds, and Shelly-Ann Fraser-Pryce, aged 36, who aimed to match Sergei Babuka's six gold medals in the same discipline but earned bronze with a time of 10.77 seconds.
 
Richardson's journey to this victory has been marked by obstacles. She missed the Tokyo Olympics due to cannabis use and was absent from last year's world championships after not making the cut in the American trials for the 100m and 200m events. Despite a seemingly challenging semifinal, where she finished third and qualified as a quick loser, Richardson unleashed her potential in a breathtaking final run, improving upon her personal best of 10.71 seconds.
 
Shericka Jackson was anticipated to rise as the new queen of sprints in the wake of the weakening of previous champions. However, Richardson's well-recognized talent, coupled with her newfound maturity and experience, positions her to achieve remarkable feats. This victory marked her first medal at the championships.
 
Fabrice Zengo, representing Burkina Faso, made history by securing the triple jump gold medal, becoming both the country's first world champion and the first athlete from Burkina Faso to win a medal at the World Championships. Zengo, who previously won bronze in 2019 and silver in 2022, achieved a jump of 17.64 meters. Cuban athletes Lazaro Martinez (17.41) and Christian Napoles (17.40) followed his performance.
 
In the men's discus final, a fierce competition unfolded between Sweden's Daniel Stoll and Slovenian Kristian Che. In a thrilling conclusion, they each surpassed the other with their final attempts. Outgoing world champion Che reached 70.02 meters, confident of victory, until Stoll's impressive throw of 71.46 meters, exceeding his previous highest score of the evening.
 
Grant Holloway, an American athlete, secured the title in the men's 110m Hurdles for the third consecutive time. He displayed an impressive performance on the track, creating a significant gap midway through the race and finishing with a time of 12.98 seconds.