2023 World Athletics Championships, Budapest: Sleepy Tobi Amusan misses chance to retain 100mH crown
Posted : 25 August 2023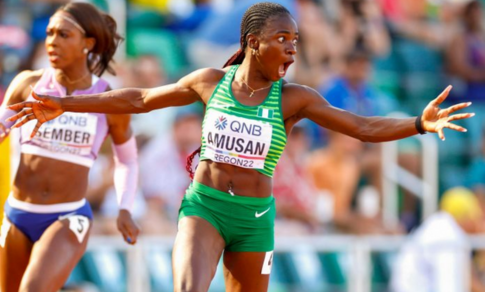 Nigeria's Queen of the Track, Tobi Amusan was on Thursday night dethroned as the fastest 100m Women Hurdler after she failed at her third appearance attempt at the World Athletics Championships ongoing in Budapest, Bulgaria.

Amusan ingloriously finished 6th in the final of the 100m hurdles behind Jamaica's Danielle Williams, who came first and Puerto Rico's Jasmine Camacho-Quinn.

It was a remarkable day for Jamaica's Danielle Williams who won the crown in a season-best of 12.43s howbeit short of Amusan's record 12:12secs, while Olympic champion, Puerto Rico's Jasmine Camacho-Quinn came second in 12.44s and USA Kendra Harrison came third in 12.46s while World champion, Amusan came 6th in 12.62s in her third consecutive final.

It would be recalled that Amusan had against all expectations won the 2022 World Championship in Eugene, USA, where she came first with a 12.40 (African record) before setting a new world record of 12.12 to smash the 12.20 world record set by Kendra Harrison in 2016.

Perhaps still hunted by her ordeal in the hands of World Athletics, disciplinary arm, Athletics Integrity Units (AIU) that suspended her, prior to the World Athletics Championships in Budapest, Amusan looked unconvincing during her heat preliminary sessions as she now missed out on the chance of becoming the fourth woman after USA's duo of Gail Devers and Michelle Perry, and Australian Sally Pearson, to claim at least two gold medals in the women's 100m Hurdles at the World Championships.

Amusan has been up in battle against her fierce rivals, Olympic champion, Puerto Rico's Jasmine Camacho-Quinn, Switzerland's Ditaji Kambundji, Bahamas' Devynne Charlton, the duo of Kendra Harrison and Nia Ali from the United States of America, and the Jamaican duo of Ackera Nugent and Danielle Williams at the National Athletics Centre in Budapest, Hungary.

There has been many conspiracy theory around Amusan before the tournament begins as she was only cleared two days before the start of the 2023 World Athletics Championships by the Athletics Integrity Unit (AIU).

However, the World Athletics, AIU made a U-turn about the disciplinary suspension of Amusan without any clarity about the earlier claims that Amusan had missed three Pre-event doping sessions which was mandatory.

Amusan was subsequently cleared of wrongdoing two days before the commencement of the championship without details of her charge and why it was dropped.

"A panel of the Disciplinary Tribunal, by majority decision, has today (Thursday) found that Tobi Amusan has not committed an Anti-Doping Rule Violation (ADRV) of three Whereabouts Failures within a 12-month period," the statement read.

Amusan thus became the latest casualty in the Team Nigeria's camp at the championship as another medal hopeful, Ese Brume had fumbled when she finished fourth in the women's long jump event on Sunday.

Amusan looked lethargic and out of form after a turbulent show at the World Athletics Championships.

As it stands now, Team Nigeria has yet to record a medal on Day 6 of the ongoing World Athletics Championships in Budapest.